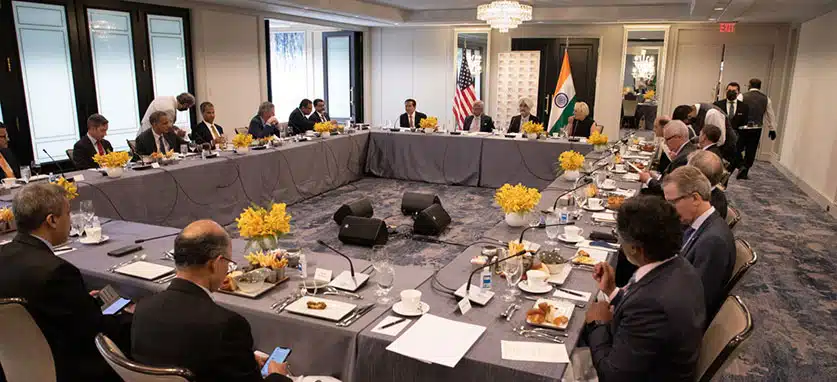 The second wave of COVID-19 in India led to a pause in high-level engagements between the United States and India. However, US efforts to support and assist India in its battle against the pandemic took forefront and both sides witnessed an unprecedented cooperation on the healthcare front. It is expected that healthcare cooperation between the two countries will continue both bilaterally as well on multilateral platforms like the Quad and the UN General Assembly.
After a successful trip by U.S. Secretary of Defense Lloyd Austin to India in March, and India External Affairs Minister S. Jaishankar's recent trip to Washington, D.C., working level engagements have begun for the next round of the 2+2 Dialogue expected to be hosted in October in Washington D.C.
Both sides are working on a potential agenda, although it is unlikely that any high-level deliverables will be announced. Additionally, U.S. Trade Representative Katherine Tai remains engaged with her counterpart, Ministry for Commerce and Industry Piyush Goyal. While there is less likelihood that the stalled mini trade deal under the Trump administration will be addressed, a prospective broader trade deal with additional components is under discussion. The U.S.-India Trade Policy Forum has not convened since 2017. However, both USTR Tai and Minister Goyal are committed to holding the TPF and the CEO Forum this year.
On the defense relationship, the next round of the U.S.-India Defense Technology and Trade Initiative (DTTI) and a visit by officials of the Indian Defense Acquisition Council is also likely to take place in the coming months. On the energy and climate change front, U.S. Special Envoy on Climate Change John Kerry undertook a visit to India and met with the leadership to deepen ties and efforts on tackling climate change. Both sides are committed to remaining engaged on the issue and more high-level interactions are expected to take place.
June 9, 2021